Islamist Extremists Threaten Jihad In Bangladesh, Western Media Inadvertently Fans the Flames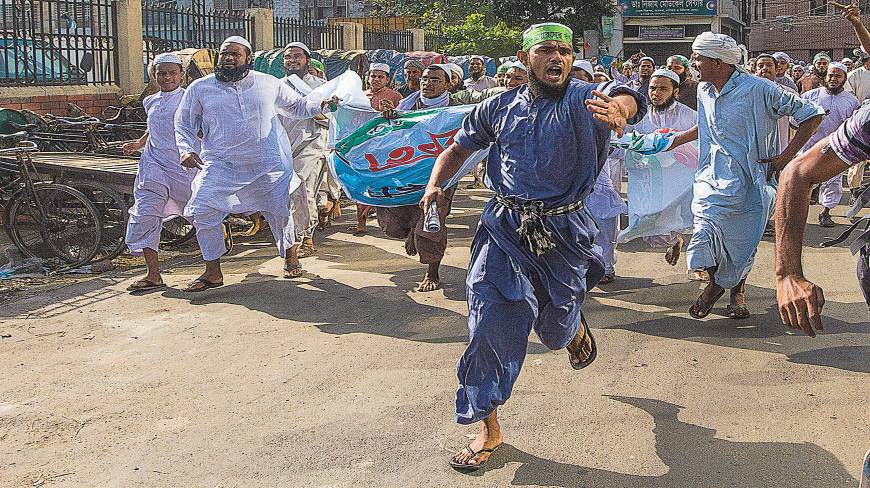 As Bangladesh's Supreme Court prepares to take up a 28-year-old petition challenging a military dictator's decision to insert a state religion into the country's constitution, radical Islamists have responded by threatening to launch armed jihad against the government if they don't like the outcome.
Leaders of the radical Islamist group Hefazat-e-Islam said on Friday that they are preparing to lead a jihad against the Bangladesh government if the original principles of religious neutrality are restored to the Constitution.
"We will declare Jihad from Chittagong if Islam is dropped as the state religion. Those who love Islam will not give in to such an evil bid," Hefazat Joint Secretary Mainuddin Ruhi warned. "We will lay down our lives, if necessary," Hefazat Secretary General Junaid Babunagari told a rally of supporters, suggesting the possibility of suicide attacks.
Hefazat activists have been carrying out protests against restoring the constitution across the country. They have been joined in these protests by activists from Jamaat-e-Islami and Islami Chhatra Shibir, Jamaat's notorious militant "student" wing.
Unfortunately, much of the Western media is inadvertently fueling the extremist narrative by using sensationalist language that suggests that Bangladesh is "abandoning," "dropping," "removing" or "challenging" Islam, which easily plays into Islamist messaging that attempts to characterize the issue of an attack on Islam rather than what it really is: Simply reaffirming the pluralistic nature of Bangladeshi culture and restoring the constitution's equal treatment of all Bangladeshis regardless of their religion.