Pakistani Terrorist Group Operating in Rohingya Camps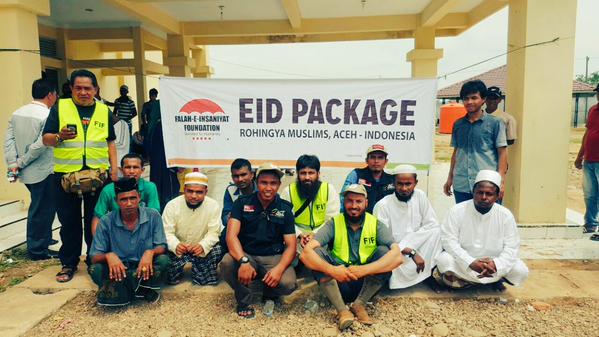 The name Falah-e-Insaniat Foundation (FIF) may be unfamiliar to many, but it is only the most recent alias adopted by Pakistan-based terrorist group Lashkar-e-Taiba (LeT) and it's front group, Jamaat-ud-Dawa (JuD) believed to be responsible for the 2001 attack on India's parliament and the 2008 attacks in Mumbai that killed over 160 innocent people. FIF often serves as an entry point for the group to propagate it's extremist ideology and identify new recruits for global jihad operations. While based in Pakistan, FIF also operates in several terrorist war zones including Afghanistan, Gaza, and Syria. Recently, the LeT front group has begun operating in Rohingya refugee camps in Indonesia.
FIF is ostensibly a humanitarian group, but it's actual purpose is apparent from the group's own statements. Recently, FIF chairman Abdul Hafiz called for armed Muslim intervention in Myanmar, and Lashkar-e-Taiba founder Hafiz Saeed has been holding rallies in Pakistan comparing the Rohingya refugee crisis to the killings of Muslims in Afghanistan and Iraq. This is nothing new. According to the Government of Bangladesh, LeT has been working to recruit Rohingyas for international terrorist operations for years.
Intelligence reports from Dhaka have also confirmed the presence of Lashkar commanders on the Bangladesh-Myanmar border. The LeT is believed to be recruiting Rohingyas, offering to help them to seek revenge against the Buddhists through terrorist acts.

According to the Bangladesh government, umbrella organization like Jamaat-ul-Arakan and the Rohingya Solidarity Organization are running terror training camps in remote areas of Bandarban district of Bangladesh adjoining the Myanmar border.
Today, rather than working through proxy groups, LeT is opening its own camps under its FIF brand, providing food and shelter to vulnerable refugees paired with their extremist message.
FIF Distributing Cooked Meal in the shelter homes of Rohingya Muslims in #Indonesia#FIFWithRohingyaMuslimspic.twitter.com/N3SxEBMgoa

— FIF Pakistan (@FIFPakistan1) June 15, 2015
The conditions faced by Myanmar's Rohingya Muslims are deplorable and must be addressed. The need for a solution has become even more urgent, though, given that designated terrorist groups like LeT are exploiting the crisis to spread their extremist message and recruit new fighters in their quest for global jihad.