"Blasphemy" Politics Threatens Bangladesh's Democracy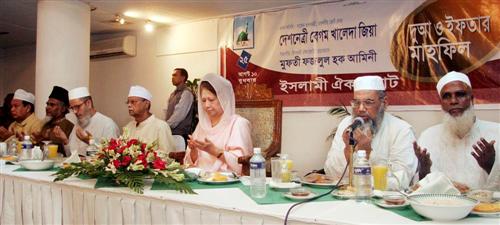 Over the course of the past two decades, over 1,000 Pakistanis – mostly non-Muslims – have faced accusations of blasphemy – a capital crime in their country. So serious are these accusations that at least 50 people accused of blasphemy have been killed in vigilante acts before they ever saw trial. Last year, a mob in Pakistan tortured and burned alive a Christian couple after rumors spread that they had burned pages from the Quran. Another Christian couple nearly suffered a similar fate until being saved by Pakistani police only recently. Accusations of blasphemy are often traced to personal grievances, but they have also been used for political ends.
In January 2011, the Governor of Punjab, Pakistan's second largest province, was assassinated by his bodyguard for allegedly blaspheming against the Prophet Muhammad. Governor Salmaan Taseer of the secular Pakistan People's Party (PPP) was actually a deeply religious man whose Islamic faith led him to defend the rights of a Christian woman sentenced to death for blasphemy after an argument over whether she should be allowed to drink from the same well as her Muslim neighbors. Tragically, Governor Taseer's act of compassion was twisted into accusations of apostasy by religious extremists. Shortly after Governnor Tasseer was assassinated, another PPP leader was killed. Federal Minister for Minorities Affairs Shahbaz Bhatti was assassinated by the Taliban in March of the same year. Former Minister Sherry Rehman, another PPP leader, faced similar threats after she called for legislation to protect religious minorities.
In Bangladesh, eerily similar scenes are beginning to unfold as religious extremists and politicians use allegations of blasphemy against political opponents. Islamists took to the streets in Dhaka earlier this month demanding the death of a former federal minister. Abdul Latif Siddiqui allegedly told a gathering of Bangladeshi expatriates in New York last year that he felt the Hajj, an annual Islamic pilgrimage to Saudi Arabia, was not economically beneficial to Bangladesh. Hefazat-e-Islam Bangladesh, an Islamist umbrella group, has demanded the former minister be killed for making a statement that hurt "religious sentiments." Mr. Siddiqui is not the only person facing such threats.
Bangladesh Nationalist Party (BNP) spokesperson Asaduzzaman Ripon joined Hefazat-e-Islam in declaring Bangladeshi columnist Abdul Gaffar Chowdhury an apostate and demanding he be executed after a talk he gave in London that discussed the etymology of the 99 names of Allah. In a bizarre conspiracy theory, the BNP and Hefazat-e-Islam also publicly alleged that Bangladesh's Foreign Ministry could be responsible for Mr. Chowdhury's remarks. This all points to a disturbing trend in which accusations of blasphemy are increasingly being used by opposition politicians as a deadly political weapon in Bangladesh, a strategy that has already been used to weaken secular politicians and intellectuals in Pakistan.
In recent years, the BNP and Jamaat-e-Islami took part in Islamist demonstrations demanding new laws against blasphemy similar to those in Pakistan. And the demands don't end there. Along with demands for harsh blasphemy laws, Islamists also demanded the government declare Ahmadis as non-Muslims, make Islamic education compulsory, stop "anti-Islamic activities" by NGOs, and the immediate and unconditional release of jailed Islamist clerics and madrassah students. Bangladesh's Prime Minister, Sheikh Hasina, has firmly rejected calls for new blasphemy laws, but the Awami Olama League, a pro-government Islamist group, has held its own demonstrations echoing Hefazat-e-Islam's list of demands.
There are reports that the Awami Olama League demonstration was carried out by a splinter faction being funded by Jamaat-e-Islami and Hefazat-e-Islam to discredit the secular government, and Prime Minister Sheikh Hasina reiterated her commitment to preserving Bangladesh's secular politics in a speech just last month. The BNP has disavowed any ideological affinity with its Islamist allies, claiming that the relationship is purely strategic. But by joining Islamist fundamentalists in their demonstrations, the BNP is giving credibility to their demands and normalizing their extremist ideology in Bangladesh's historically moderate society.
Having suffered tens of thousands of deaths due to Islamist terrorist attacks in recent years, Pakistan is a living example of how quickly religious extremism can spin out of control and devour a country. Bangladesh has been fortunate to avoid the same fate so far, but amplifying extremist groups for political gain could easily reverse that trend. If political parties do not share the ideology of their Islamist allies, they should stop legitimizing their demands and sever ties before a cynical political strategy becomes an existential threat.