Religious Extremists Continue To Gain Influence in Pakistan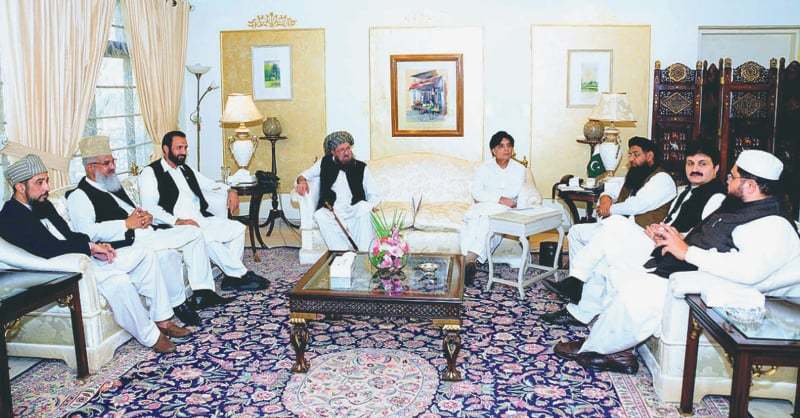 Despite a recent surge in Islamist terrorist attacks in the country, Pakistan's government continues to court religious extremists, providing them political power that far outsizes their ability to earn votes. Two incidents this week indicate that extremists continue to gain influence in Pakistan.
On Tuesday, Pakistan's Interior Minister, Chaudhry Nisar Ali Khan, assured a 25-member delegation from Jamiat Ulema-e-Islam (Samiul-Haq group) that the government is committed to eliminating "blasphemous" content from social media and was working to organize an international bloc of Muslim countries to make its efforts global. The delegation meeting with the Interior Minister is from an organization led by Maulana Samiul Haq, who in 2015 swore allegiance to the Taliban and whose Darul Uloom Haqqania madrassa in Khyber Pakhtunkwa has been characterized as a "University of Jihad."
Meanwhile, Abdul Ghafoor Haideri, General Secretary of Jamiat Ulema-e-Islam (Fazl-ur-Rehman group), invited the Taliban to join his party and "achieve their objectives." Mr. Haideri is Deputy Chairman of the Senate of Pakistan, and earlier this year he was denied a visa to visit the United States to attend a meeting of the Inter-Parliamentary Union at the U.N.
Maulana Fazl-ur-Rehman is reportedly meeting with leaders of other Islamist groups to discuss a new political coalition, and some militant groups are exploring registering as political parties themselves. Although similar efforts have not met with much success in past elections, the political influence of religious extremist groups continues to grow in Pakistan.