Hefazat-e-Islam flexes its muscle at annual Muslim gathering in Bangladesh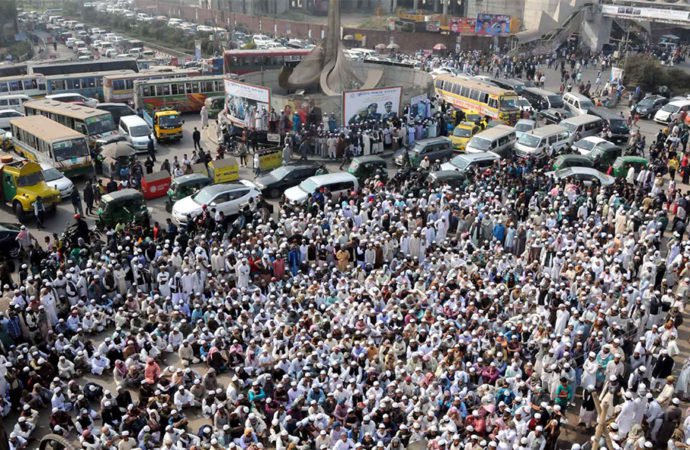 Key parts of Dhaka were brought to a standstill on Wednesday as demonstrators blocked roads in protest of the arrival of a Muslim cleric from India, Maulana Muhammad Saad Kandhalvi. The preacher was traveling to Dhaka to attend the Bishwa Ijtema, a massive annual Muslim prayer meeting in Bangladesh organized by the Tablighi Jamaat, a global Islamic evangelical movement of which Maulana Saad Kandhalvi is a leader. According to news reports, the protests are being orchestrated by the theocratic extremist group Hefazat-e-Islam, whose leadership objects to some of Maulana Saad Kandhalvi's teachings.
Ahmad Shafi, Hefazat's 93-year-old supreme leader was educated at India's Darul Uloom Deoband, a hardline fundamentalist seminary that has issued fatwas against photography, women getting haircuts, and marrying anyone with family members who work at banks. In 2016, Darul Uloom Deoband issued a fatwa against Maulana Kandhalvi.
The controversy over Maulana Kandhalvi first appeared within the Tablighi Jamaat last November, when a meeting of the group's leaders in Bangladesh descended into violence. Following this incident, Tablighi leaders reportedly established new procedures to ensure consensus in decisions. Media reports note that the majority of Tabligh Jamaat leaders are in favour of Maualana Kandhalvi's visit to Bangladesh, which makes Hefazat's protests all the more noteworthy.
Since it's founding in 2010, Hefazat has repeatedly used its ability to mobilize supporters along with threats of violence to influence the boundaries of secular public policy in Bangladesh. Now, however, Hefazat is mobilizing its supporters to define the boundaries of what individual Muslims are allowed to believe. This is a dangerous precedent in a country struggling to contain religious extremism.