Reps Banks, Gabbard Take Strong Stand In Defense of Religious Freedom In Bangladesh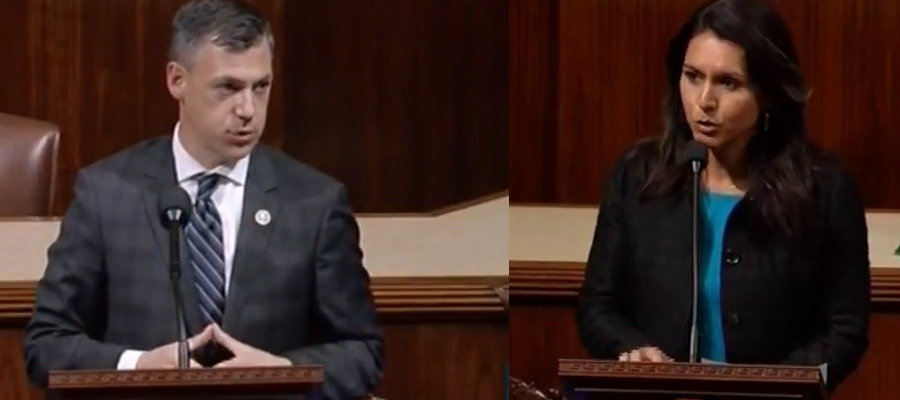 A bi-partisan group of lawmakers has sent a strong message that Washington is closely watching developments on the ground in Bangladesh as the country prepares for national elections next month, and stands firmly in support of the rights and security of all citizens, regardless of their faith. Bangladesh is the world's fourth-largest Muslim country.
"When Bangladesh secured its independence in 1971, its founders enshrined in the Constitution freedom of religion as a fundamental human right," said Liberty South Asia's Seth Oldmixon. "Unfortunately, extremist groups have tried to undermine this principle and transform Bangladesh from a secular democracy into a radical theocracy. H. Res. 1156, introduced by Congressman Jim Banks (R-IN) and co-sponsored by Congresswoman Tulsi Gabbard (D-HI), is an important reminder of how much is at stake in Bangladesh's upcoming elections."
Past elections in Bangladesh have been marred by attacks against religious minorities carried out by extremist groups like Jamaat-e-Islami. The State Department's International Religious Freedom Report for 2014 notes that, "cadres of Jamaat-e-Islami and Islami Chhatra Shibir burned at least 150 Hindu homes across three localities in Chittagong district on January 5, and burned at least as many homes and shops in Hindu communities in the Kornai village of Dinajpur district" during that year's election period.
"This resolution is a life-saving measure for the religious, ethnic and social minorities in Bangladesh that is getting closer to theocracy day by day," said Ashok Karmaker of the Bangladesh Hindu Buddhist Christian Unity Council, USA. "On behalf of all minorities of Bangladesh we express our gratitude to both Congressman Honorable Jim Banks and Congresswoman Honorable Tulsi Gabbard for sponsoring the resolution."
In the words of former Supreme Court Justice Louis Brandeis, "Publicity is justly commended as a remedy for social and industrial diseases." Liberty South Asia applauds Representatives Banks and Gabbard on their leadership in bringing much needed attention to the threat of religious extremism in Bangladesh, and being torchbearers for America's tradition of supporting human rights and religious freedom throughout the world.