FACT CHECK: No incident of minority repression during BNP rule?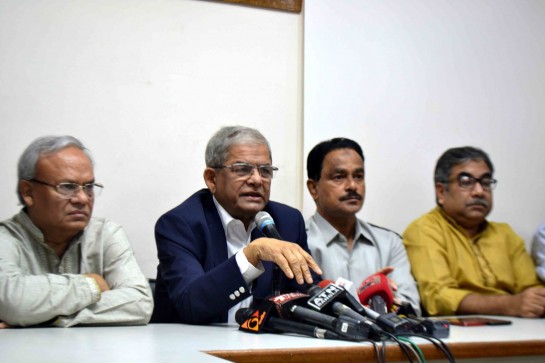 Addressing a press conference at BNP headquarters, party leader Mirza Fakhrul Islam Alamgir claimed that no repression of minorities took place when BNP was in power, and that, in fact, "minority's interests were protected during BNP's tenure." However, the International Religious Freedom Report 2005, published by the U.S. Department of State, tells a different story.
In this report, the State Department found that "The [Bangladesh] Government's respect for religious freedom was inconsistent." It goes on to note that:
Since the 2001 elections, religious minorities reportedly have continued to be targeted for attacks, which has led to the requirement for guards to be present at church and temple ceremonies. Reportedly, incidents include killings, rape, torture, attacks on places of worship, destruction of homes, forced evictions, and desecration of items of worship.
Regarding the rights of Ahmadiyya Muslims, the BNP government's response was mixed.
Following demands by the Islami Okiyya Jote, an Islamist coalition partner of the ruling BNP, that Ahmadi publications be banned and that Ahmadis be declared non-Muslims, the Government announced such a ban on January 8, 2004. However, several days later, the Prime Minister announced the Government would not declare Ahmadis non-Muslims…

At government direction, police in Ahmadiyya communities also became more active in protecting Ahmadis. However, in other cases, police did not stop extremist demonstrators from placing provocative signboards at Ahmadi mosques.
Religious minorities in Bangladesh continue to face hardship, though there is reason to believe the situation has been improving in recent years. A 2016 report for the U.S. Department of Justice on treatment of religious minorities in Bangladesh contends that, "there appears to be an improving situation with regard to the governmental response to violence and social persecution of minorities."
While more needs to be done to ensure that Bangladesh lives up to the principles of secularism and freedom of religion as enshrined in its constitution, claims that there was no repression of religious minorities during BNP rule does not bear scrutiny.