BJP Action Against Nupur Sharma and Naveen Kumar Jindal a Welcome First Step
In its 2022 Country Reports, Freedom House, a non-profit, U.S. government-funded organization in Washington, D.C., that conducts research and advocacy on democracy, political freedom, and human rights, noted that the Indian government led by Prime Minister Narendra Modi and his Hindu nationalist Bharatiya Janata Party (BJP) "has presided over discriminatory policies and a rise in persecution affecting the Muslim population." Today, the BJP took action against two party members following international outcry about disparaging remarks made about Islam during a television program.
As it suspended Nupur Sharma and expelled Naveen Kumar Jindal, the BJP also issued a press release expressing respect for all religions and denouncing "insult of any religious personalities of any religion." The release went on to note that "The Bharatiya Janata Party is also strongly against any ideology which insults or demeans any sect or religion."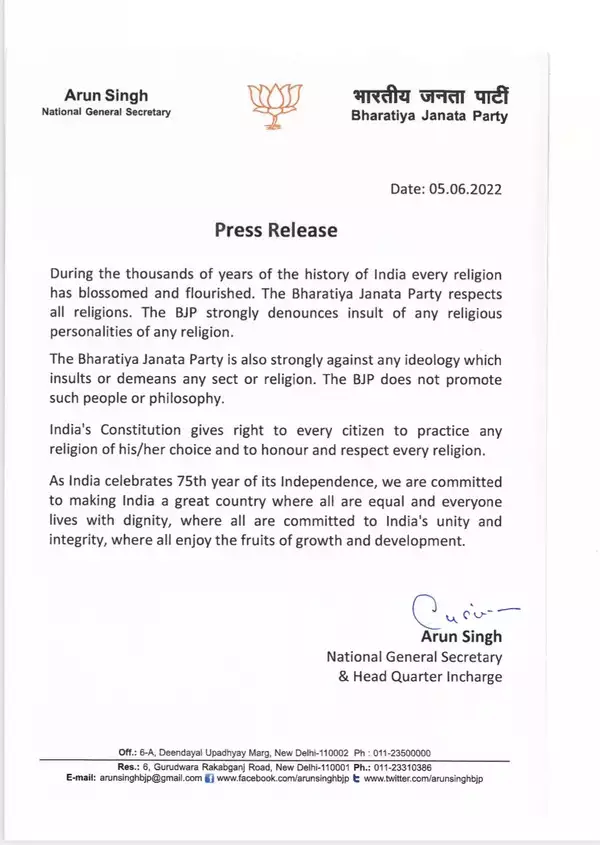 The BJP should be commended for taking this action, but it must not stop there. To protect India's reputation as "the world's largest democracy," BJP leaders in the government must put actions behind their words.
That should begin with cracking down on religious hate speech – before it rises to the level of international condemnation. The government must also crack down on the targeted communal violence that is erroneously described as "vigilantism."
In recent years, India has seen its reputation as "the world's largest democracy" diminish due to what the Economist Intelligence Unit describes in their 2021 Democracy Index as "increased intolerance and sectarianism towards Muslims and other religious minorities." To reverse this trend, Indian political leaders must take concrete action to protect religious freedom and the rights of religious minorities. Today's response to the divisive rhetoric of two party leaders is a good first step.