Pakistani Politics and the Rhetoric of Sacred Violence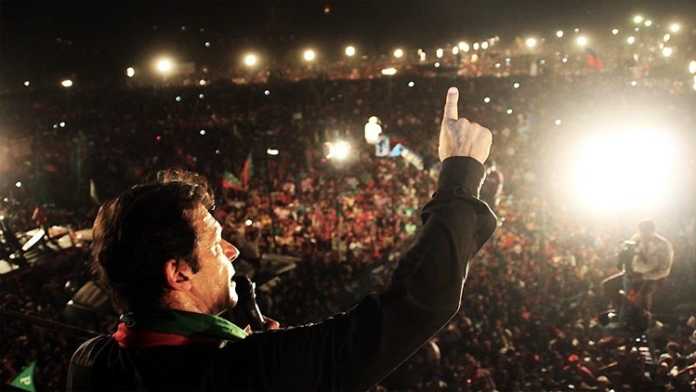 Following his removal from office by way of a no-confidence vote by Pakistan's National Assembly in April, former Prime Minister Imran Khan has described his effort to return to power as "jihad." In response, PML-N Vice President Maryam Nawaz told her party's supporters that stopping Khan's effort was tantamount to jihad. To many onlookers, especially in the West, the word jihad conjures images of terrorist groups like al Qaeda. But are Pakistani politicians really advocating violence?
The word jihad is complicated. Maher Hathout, author of Jihad vs. Terrorism and a founder of the Muslim Public Affairs Council explained this in an interview with National Geographic.
"It's a range of activities all based on the Arabic meaning of the word 'exerted effort.' In the Koran it's projected as exerting effort to change oneself, and also in certain situations physically standing against oppressors if that's the only way," he said.
So, which meaning are Pakistan's politicians intending?
It's difficult to know exactly, but their intended meaning may be beside the point. In the words of American political communications consultant Frank Luntz, "it's not what you say, it's what people hear."
From this perspective, the use of jihad to describe Pakistan's domestic political movements is concerning.
Imran Khan used the word jihad in 2012 when expressing support for the Taliban's use of armed violence to seize power in Afghanistan. He also invoked the term when urging people not to join militant groups in Kashmir, arguing that violence would damage Pakistan's interests in the dispute. So he has a record of using the word jihad to mean taking up arms. In addition to referring to his current political movement as jihad, he has also warned that the country would descend into "civil war" if his demands for new elections are not met. This presents a worrying pattern.
As Daniel Byman, Senior Fellow at the Brookings Institution's Center for Middle East Policy notes, "a range of research suggests the incendiary rhetoric of political leaders can make political violence more likely, gives violence direction, complicates the law enforcement response, and increases fear in vulnerable communities.
Whether the former prime minister intends to incite violence or not, at least one of his supporters has now escalated the rhetoric, threatening suicide attacks in the country.
"If a single hair on Imran Khan's head is harmed, then those running the country be warned: Neither you nor your children will remain. I will be the first to carry out a suicide attack on you, I will not let you go. In the same way, thousands of workers are ready," PTI lawmaker Mr. Attaullah (NA-250) said in a video shared on social media.
While Imran Khan suffered defeat in the no-confidence vote earlier this year, he will have a chance at redemption in the next elections. In the meantime, he – and all political leaders – must abandon the rhetoric of sacred violence and refocus their messaging from how they will destroy their opponents to how they would deliver peace and prosperity to the people of Pakistan.